Signet Technologies to Offer Multimedia eLearning Applications from eXstream Solutions.

Announces Agreement with eXstream Solutions to Provide Live and On-demand Multimedia Streaming Applications.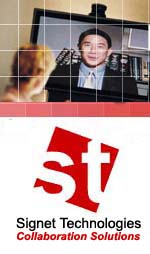 NORWELL, MASSACHUSETTS February 20, 2003 Signet Technologies, New England's leading audio, data, and video collaboration solutions provider, has teamed with eXstream Solutions to offer eXstream's leading-edge enterprise application software for Live and On-demand Multimedia eLearning solutions. "eXstream's solutions OpenLearn 3.0 delivers powerful eLearning solutions that combine distributed multimedia with the benefits of online collaboration and interactivity.
We are excited to offer eXstream's solutions to our clients because of innovative approach, best in class streaming technology, its integration with videoconferencing application, its impressive client list and the pricing strategy" said Mahesh Shah, Chief Executive Officer of Signet Technologies, Inc.
"We are delighted to add Signet Technologies to our list of Preferred Partners," said Aby Alexander, President at eXstream. "The Signet team brings many years of experience in the video industry and strong customer relationships, and we are extremely pleased Signet has decided to add the eXstream product line to their offerings. eXstream is very excited to be working with Signet Technologies because of their strong attention to customer needs, expertise, and ability to deliver high technology solutions with a focus on simplicity."
About Signet Technologies
Signet Technologies is a full service solutions company specializing in audio, data, and video collaboration. Our comprehensive offerings address all of your needs from design, hardware, software, installation and training to deployment and management. Since its incorporation in August 2000, Signet has consulted, designed, installed, trained and managed collaboration solutions for numerous high-profile corporations and universities throughout New England. Visit us at http://www.signettechnologies.com.
Please contact Mahesh Shah at 781 871 5888 x 188 for further information.
About eXstream Solutions
A leader in delivering live and on-demand multimedia-based e-learning solutions, eXstream Solutions enables educational content providers and Global 2000 organizations to create, manage and deliver content within a virtual classroom environment. eXstream's OpenLearn product suite provides users with a more compelling online learning experience by integrating live and instantly archived on-demand audio, video and text with collaboration tools and interactivity. OpenLearn leverages robust digital media storage and delivery capabilities to manage this valuable content. As a result, eXstream's software and infrastructure transforms traditional trainings into valuable content to be delivered across the extended enterprise.
eXstream has offices in Cambridge, Massachusetts, New York City, New York and London, England.
For more information on OpenLearn, please contact:
Adam Zotkow, Director of Business Development.
E-mail: adamz@exstreamsolutions.com, or call 646-495-6301.