Sonus Networks Selects eXstream Solutions' OpenLearn Platform to Provide Online Training Capabilities to Carrier Customers
OpenLearn's Flexibility Enables Personalized Training Anytime, Anywhere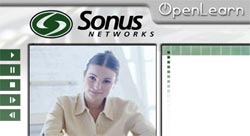 CAMBRIDGE, MA (February 1, 2002)- Sonus Networks, Inc. (Nasdaq: SONS), a leading provider of voice infrastructure solutions for the new public network, is implementing e-learning software from eXstream Solutions to deliver online training services to Sonus' carrier and service provider customers worldwide.
"A commitment to servicing our customers, including the ability to quickly and effectively deliver them knowledge, is a core company value at Sonus,'' said Warren Maxwell, manager, educational services, Sonus Networks. ``We needed a self-service e-learning solution that would allow us to easily develop, manage and deliver highly engaging multimedia-based courses for our customers. After analyzing a variety of e-learning products, we chose OpenLearn as the foundation of our online training initiative."
Through OpenLearn, Sonus can deliver courses for its award-winning voice infrastructure solutions to carrier customers in two different ways: synchronously, in a real-time instructor-led environment; or asynchronously, in an on-demand environment where customers can view a personalized presentation anytime, anywhere.
OpenLearn provides an attractive training option for Sonus' service provider customers. As corporate travel budgets decline and limits are placed on expenditures related to employee education, e-learning becomes a viable alternative for maximizing the usefulness of training and measuring its overall effectiveness. Consequently, Sonus' online training program will maximize the productivity time of its customers by minimizing or eliminating travel. In addition, whereas in the past only front-line personnel typically had access to Sonus' product training, online education enables Sonus' customers to make product training available to their entire organization without leaving their desktop.
"We are excited to be working with Sonus Networks to help them enhance their traditional training offerings and better service their customers," said eXstream Solutions CTO and President Aby Alexander. "Providing Sonus with OpenLearn, our enterprise-class e-Learning authoring, management and delivery solution, empowers Sonus to offer their clients a completely individualized training curriculum."
About eXstream Solutions
A leader in delivering live and on-demand multimedia-based e-learning solutions, eXstream Solutions enables educational content providers and Global 2000 organizations to create, manage and deliver content within a virtual classroom environment. eXstream's Open-Learn product suite provides users with a more compelling online learning experience by integrating live and instantly archived on-demand audio, video and text with collaboration tools and interactivity. Open-Learn leverages robust digital media storage and delivery capabilities to manage this valuable content. As a result, eXstream's software and infrastructure transforms traditional trainings into valuable content to be delivered across the extended enterprise.

eXstream has offices in Cambridge, Massachusetts and New York City. For more information on OpenLearn, please contact:
Adam Zotkow, Director of Business Development. Email:adamz@exstreamsolutions.com, or call 646-495-6301