The eXstreaming! platform is a multimedia application hosting environment that optimizes the management and delivery of all types of digital media assets. By integrating eXstream's Digital Content Communicator (DCC) software with best-ofbreed hardware technologies, eXstreaming! empowers content owners with a flexible, end-to-end digital media delivery
solution. The platform can be customized to meet your needs using pre-built modules, reducing time to market and reliably scaling to meet user demand. To ensure optimum performance for your mission-critical applications, we offer both dedicated and co-located hosting services through partnerships with leading global broadband networks.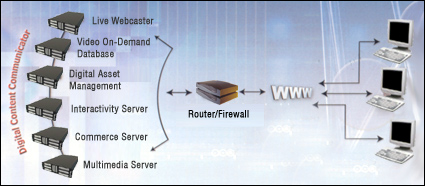 eXstreaming! Modules
Live Webcaster: Content producers can deliver a live web broadcast by accessing IP from virtually any location supporting a high-speed fiber, ISDN, or satellite connection. The Live Webcaster receives, encodes, and delivers the feed providing a turnkey live-event solution.

Video On-Demand and Membership: eXstreaming!'s robust database capabilities enable digital media files to be stored, managed, and accessed on-demand. Our Membership Server provides the infrastructure that facilitates the storage and management of users and user profiles for high-volume sites.

Digital Asset Management: eXstream's Digital Content Communicator software facilitates the management and delivery of audio, video, images, and text-based content through the creation of a dynamic publication structure. By defining workflow that enables technical and non-technical authors to contribute and publish audio, video, images, and text, the Digital Content Communicator creates the tools that help manage all types of rich media assets.

Interactivity and Collaboration: Interactive software and collaboration applications, integrated with multimedia, will enable your organization to share and disseminate information in increasingly compelling ways.

Digital Rights Management and Pay-Per-View: Integrated into the eXstreaming! platform, our digital rights management software allows content owners to protect valuable files by enforcing controlled distribution. Your organization can offer Pay-Per-View content through an easily administered e-commerce "storefront" that authenticates and executes credit card transactions. eXstream currently supports Microsoft's Windows® Media (Digital Broadcast Manager) as well as RealNetworks® and Quicktime™ formats.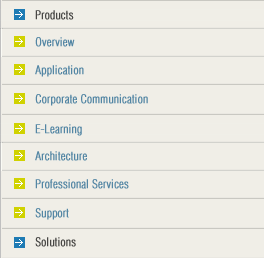 Features:
Scalable: Adding additional servers is simply a function of user demand, making growth simple, fast, and highly cost-effective
Secure: The platform is built to ensure network security and control access to mission
critical data
Reliable: The platform is architected to be fault tolerant; built in server redundancy protects against failure and traffic spikes
Distributed: The platform can be deployed across multiple broadband networks to ensure no single point of failure and an optimum streaming performance